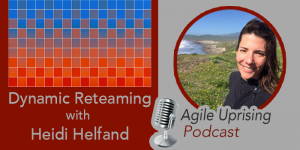 This week, our guest is Heidi Helfand, Director, Engineering Excellence at Procore Technologies and author of a new book Dynamic Reteaming.
Our discussion challenges the notion that we need to keep our software develop teams "the same" in order to be successful.
And instead, as agilists and coaches our goal should be helping teams to self-reflect and shift from working in silos to working as cohesive and perhaps non-persistent teams.
In short, to help them dynamically reteam, of their own volition, when there's value and wisdom to be gained by doing so.
This episode is hosted by Andy Cleff and Paul Elia.
Links:
Websites:
Books:
Upcoming/Recent Events:
For more, see these videos:
Please continue to support the Agile Uprising by subscribing to our podcast.
Also consider giving us a review on iTunes, Stitcher or your podcasting platform of choice.
Source: Libsyn RSS