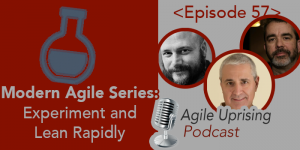 This week's show is hosted by Paul Elia, Ryan Lockard and special guest Mike Ackerbauer.  We dive into the second of the four Modern Agile Principles, Experiment and Learn Rapidly.
In this show, we peel apart the position "You can't make people awesome or make safety a prerequisite if you aren't learning. We learn rapidly by experimenting frequently. We make our experiments "safe to fail" so we are not afraid to conduct more experiments. When we get stuck or aren't learning enough, we take it as a sign that we need to learn more by running more experiments.".
Our panel peels apart what this means to them, how it has been applied in their careers and we dive into Mike's keys to strong teams:
Always strive for shared understanding
Understand the process for group innovative thinking
Understand your team's thinking mode preference
Please continue to support the Agile Uprising, subscribe to our podcast and consider giving us a review on iTunes, Stitcher or your podcasting platform of choice.
Source: Libsyn RSS