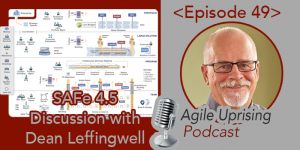 On this episode, Jay Hrsko and Andrew Leff welcomes Dean Leffingwell, Creator of Scaled Agile Framework and newly updated SAFe 4.5
Agenda: 
Introduction(s)

Configurable framework

Inclusion of Compliance

Agile Architecture

Lean Startup/UX

DevOps

Implementation Roadmap

Including SPC in SAFe foundation
Please consider subscribing to our show to hear more content like this. We also welcome and encourage your feedback via email or on our free network, coalition.agileuprising.com. Please also consider leaving a positive review for the show on iTunes or Stitcher.
This episode was brought to you buy our sponsor www.leanagileintelligence.com the industry's first customizable agile assessment and learning platform. Lean Agile Intelligence leverages the power of big data and business intelligence to identify continuous improvement and investment opportunities that contribute to your organization's vision and objectives.
Source: Libsyn RSS