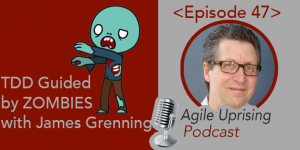 This podcast is brought to you by Scrum Gathering Canada.  Learn more at scrumgathering.ca
We are joined by James Grenning, co-author of the agile manifesto, this week.  James joins to discuss his training framework for Test Driven Development; TDD Guided by Zombies.  James sits with Ryan Lockard and discusses unit testing, TDD and how both apply to his ZOMBIE paradigm.
Please consider subscribing to our show to hear more content like this.  We also welcome and encourage your feedback via email or on our free network, coalition.agileuprising.com.  Please also consider leaving a positive review for the show on iTunes or Stitcher J
Various links from the show:
———————————————————-
———————————————————-
Hey, the place to be next Spring is Canada. Our friends up north are throwing a party – a Scrum Gathering, to be exact. Get yourselves to Toronto for March 26 & 27 and enjoy some fun with the exchange rate! Register, sponsor, or submit a session proposal at scrumgathering.ca (scrum gathering dot c a). The gathering will be in the heart of downtown Toronto, the nearest airports are YTZ and YYZ. Also, a special discount is available to all listeners of our podcast. Use the discount code, "uprising" – all lower case, to get 15% off the regular price of the gathering.
Source: Libsyn RSS