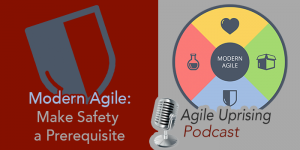 Modern Agile: Make Safety a Prerequisite
In this week's episode of the Agile Uprising Podcast, hosts Jay Hrcsko and Paul Elia continue our 5-part mini-series exploring the principles of Modern Agile. In this episode we explore "Make Safety a Prerequisite" – what this principle means to us with examples from our careers. As the episode comes to a close we challenge listeners to try some experiments with this principle, and we encourage people to report back with results, questions, or feedback via Twitter @AgileUprising or the Agile Uprising Coalition website, https://coalition.agileuprising.com/.
Links from the episode:
Please continue to support the Agile Uprising, subscribe to our podcast and consider giving us a review on iTunes, Stitcher or your podcasting platform of choice.
Source: Libsyn RSS